Sunday, 06. November 2016
The Olympic champion beats Orsi and Bocchia over 50 freestyle - Doublets for Codia, Scalia, Fissneider, Svecena and Kennedy
Saturday, 05. November 2016
Homevictories for Laura Letrari and Lisa Fissneider on the first day at the Swimmeeting South Tyrol - Meeting record swam by Fabio Scozzoli over 50 m breaststroke - Marco Orsi wins twice
Friday, 28. October 2016
The next stars for the Swimmeeting South Tyrol
Thursday, 20. October 2016
An Olympic Champion for the 20th edition: Anthony Ervin this years star at the South Tyrol swimming tournament on 5th and 6th November in Bolzano - duel with Marco Orsi
Thursday, 13. October 2016
European Champion Andreas Vazaios in Bolzano
Swimmeeting South Tyrol on 5th and 6th November in Bolzano - European Champion Andreas Vazaios, Fabio Scozzoli and Madison Kennedy the first stars taking their mark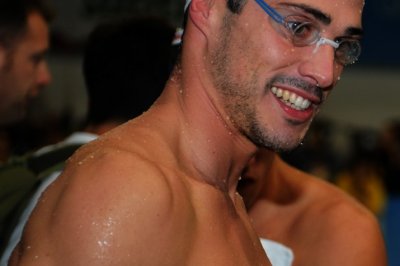 The 20th edition of the International Swimmeeting Südtirol gets closer. Only a little more than three weeks, then a part of the world class swimmer makes a stop in Bolzano. As usual South Tyrol gets to see top swimmers on the the first weekend in November. This year, the meeting takes place on November the 5th and 6th.
The organizers of the SSV Bozen have already revealed the first big names. The Italian Star Fabio Scozzoli comes once again back to Bolzano. The 28-year-old breaststroke specialist is still holding the Italian records over 50 and 100m breaststroke on long and short course. He is 16-time Italian Champion and has won 16 medals at different European Championships, along with five World Championship medals.
OC President Christian Mattivi took also a current European Champion under contract for the meeting. The 22 year-old Greek Andreas Vazaios has won the Long Course European Champion titel in May in London swimming in 1.58,18 minutes the 200m medley. At the Olympic Games in Rio Vazaios entered the semifinals and finished eleventh. Over 100m IM, which are scheduled in Bolzano, he has won Bronze at the Short Course European Championships in Israel last year.
Dario Taraboi, since September sport director at the Austrian Swimming Federation ÖSV, returns back to his hometown with his best swimmers. This includes Birgit Koschischek holding non the less than nine ÖSV Records started in Rio over 50m freestyle. Of course, athletes from the United States cannot be missing in Bolzano. Ryan Lochte, the big star in 2014 does not come to Bolzano, but Sprint specialist Madison Kennedy, who has won in Bolzano many times and holds the world record
with the US Mixed Relay over 4 x 50m freestyle. The 1.28,57 set at the World Cup in Doha in December 2014. More news about the 20th Swimmeeting South Tyrol will be announced at the press conference in a week, on Thursday 20th October at 10.30 AM at the sportcenter Pfarrhof. Special guest of the press conference is Laura Letrari, the most successful South Tyrolean in the Meeting history with three victories.