Sunday, 04. November 2018
Kelsi Dahlia from the USA is the big star at the 22nd Swimmeeting
Kelsi Dahlia from the USA is the big star at the 22nd Swimmeeting Südtirol - Four victories and three meeting records for the Olympic champion from the USA - Four wins for Marius Kusch - Five meeting records during the two days event and victory number 17 for Fabio Scozzoli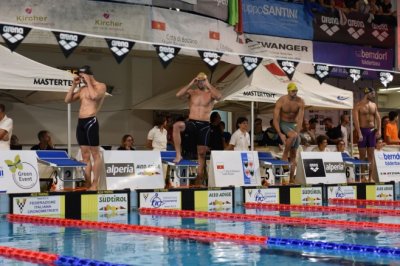 Kelsi Dahlia was the outstanding athlete at the 22nd Swimmeeting Südtirol, a green event in Bolzano since 2010. On her first start in Bolzano, the Olympic relay champion in Rio has won four races and set three of the five meeting records cheered by the audience on Saturday and Sunday. Four wins over the two days for Marius Kusch from Germany, this year the star among the men.
Kelsi Dahlia is already in great shape at the beginning of the season, as proven by her times in Bolzano. The four-time relay world champion of the 2017 World Cup in Budapest was the star of the event. After her victories on Saturday over 100 m freestyle and 50 m butterfly she opened the second day with a victory and a meeting record over 100 m butterfly. In 55.98 seconds she extinguished Natalie Coughlin's meeting record from 2011 (56.97), ahead of Kendyl Stewart (56.79) and Elena Di Liddo (58.47). Finally, Dahlia was also the fastest over 50m freestyle in 24.51 and won ahead of Lia Neal (25.09) and Erika Ferraioli (25.10).
With three wins and a meeting record, Kathleen Baker also left a strong impression on her debut in South Tyrol. The world record holder over 100 m long-course backstroke managed after her two victories on Saturday over 100m backstroke and 100 m IM, the hattrick over 50 m backstroke. In 27.54 seconds she struck ahead of the strong Margherita Panziera (28.03) and her compatriot Alexandra DeLoof (28.23). Laura Lertari had got the fourth place in 28.33 seconds and missed a podium finish this year.
Marius Kusch ruled the men races this year like no other. The German too, who trains in the USA, won four races and narrowly missed two meeting records over 50 m and 100 m butterfly. After the successes on Saturday over 50 m dolphin and 100 m IM, he missed in a victory over 100 m dolphin in 50.86 ahead of Piero Codia (52.36) for just six hundredths the nineyear- old meeting record of Mario Todorovic (50.80). Kusch also won the highly expected 50m freestyle. He won in the second series with personal best time in 21.99 seconds. The American Michael Chadwick won the final series in 22.06, finishing second and favorite Marco Orsi (22.23) got third.
Fabio Scozzoli has been one of the protagonists of Swimmeeting Südtirol for years. This year again, the 30-year-old from Imola, current European Vice Champion over 50 m breaststroke, has lived up the expectations. He has won both breaststroke races and already holds 17 wins in Bolzano in his career. He has overtaken Janine Pietsch (16) and is in the all-time ranking only a victory behind record winner Thomas Rupprath (18). Scozzoli has topped his strong 100m breaststroke record today in a 58.07 seconds. He was 0.58 seconds faster than a year ago. Second was Nicolò Martinenghi, who leveled the old meeting record of Scozzoli in 58.65. Zaccaria Casna from Bolzano finished fourth in 1.00.15, missing the podium just like the day before over 50 meters by just a few hundreths to Lachezar Shumkov (1.00.06). Also Scozzolis girlfriend Martina Carraro was
fully satisfied. She made the breaststroke double and after the 50m on Saturday she also won the 100m in 1.06.78 minutes ahead of Maria Romanjuk (1.07.24) and Baker (1.07.49). Like Scozzoli and Carraro, the 17-year-old Thomas Ceccon also celebrated two victories. After the 100m backstroke he also won the 50m backstroke in 24.02 ahead of David Gamburg from Israel (24.74) and Lorenzo Mora (24.92). The Swimmeeting Südtirol is one of the first events in South Tyrol, which has adopted the philosophy of the Greenevents and it is already working on the 23rd edition.
Saturday, 03. November 2018
The stars from the USA convince at the Swimmeeting Südtirol. Double victories for Kathleen Baker and Kelsi Dahlia - Three meeting records on the first day in Bolzano- 16th win for Fabio Szozzoli - Marius Kusch wins twice
Thursday, 25. October 2018
Swimmeeeting South Tyrol with even more stars from Italy and the USA: Ceccon, Chadwick, Vergani, and DeLoof are coming - Evelyn Verraszto back again in Bolzano in a week
Thursday, 11. October 2018
US star Kathleen Baker at the Swimmeeeting South Tyrol - Dahlia and Orsi confirmed their presence in Bolzano on 3rd and 4th November
Tuesday, 02. October 2018
Swimmeeting South Tyrol: Scozzoli aims to record winner Rupprath - Martinenghis comeback – 22nd edition on 3rd and 4th November in Bolzano