Green Event - going green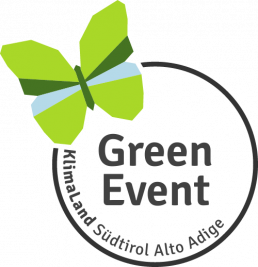 Green Events are events programmed, organized and set up after environment friendly criteria. The core is the relationship between mankind and resources, respect for the environment, enhancing local products and social responsibility. In 2014 the Province of Bolzano presents, with several participating events, the own greenevent logo. The logo used the first year for those events is the one with the "going green" status.
What does the meeting for the environment?
Since 2009 CO2 Emissions connected with the participation of the athletes have been compensated and any intern use of paper is done with recycling paper. Bottled water has been replaced with good quality tab water. Waste has been separated to enhance recycling. The use of public transport during the time of the meeting is supported and encouraged. The International Swimmeeting South Tyrol is been one of the pilot projects, from those the Environmental Agency could earn experience and facts. Of course the Swimmeeting looses the old and adopts the new logo as a South Tyrolean Greenevent..
The Swimmeeting wants to be ambassador for international sportevents, which at the same time are environment friendly.
What can meeting participants do?


Use public transport to move around;
Properly made separation as proposed;
Shorten showering time and not letting water flow senseless;
To drink Bolzano's high quality pipe water, reducing at the same time costs as well as the senseless transport on road of mineral water.