Sunday, 05. November 2023
Swimmeeting South Tyrol: Ponti and Bonnet again on top in Bolzano - The Swiss makes a hat-trick with three records - The French wins six races – Meeting record for Scalia
Saturday, 04. November 2023
Swimmeeting Alto Adige: Ponti and Bonnet light up the first day in Bolzano with three event records - Frenchwoman drops the poker
Saturday, 14. October 2023
More stars at the South Tyrol Swimmeeting in Bolzano at the beginning of November
Panziera, Desplanches, Santos, Godun - more stars at the South Tyrol Swimmeeting in Bolzano at the beginning of November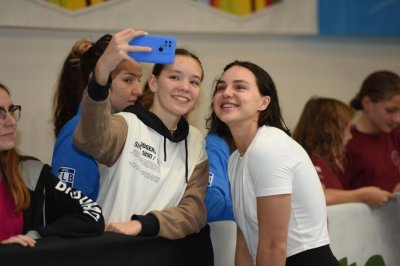 The 27th edition of the South Tyrol Swim Meeting promises once again top-class
sport, just as it has since its premiere 26 years ago. The event in the Bolzano, which
will take place in just under three weeks this year on November 4th and 5th, is also
an initial assessment of the situation before the new short course season, which
will reach its first highlight in Otopeni, Romania, from December 5th to 10th. The
big goal for everyone remains the Summer Olympics next year. And many
swimmers in race to compete in Paris in 2024 will also be seen in Bolzano.
Bolzano has always attracted international stars. This year is no different. After
Noe Ponti, Simone Stefanì, Rachel Bernhardt and Charlotte Bonnet, OC boss
Christian Mattivi from the organizing team SSV Bozen has managed to sign even
more top swimmers. Switzerland's Jeremy Desplanches has had a difficult season
after a back injury but wants to come back again. The 29-year-old from Geneva
knows what it feels like to win an Olympic medal. In Tokyo 2021 he won bronze on
his parade discipline, the 200 m individual medley, in 2018 he became European
Champion and in 2019 he gained silver at the World Championship.
Adrian Santos is the Spanish champion in the 50 and 100 m backstroke. At the
World Championships this year he arrived 18th in the backstroke sprint. Maybe he
will succeed in smashing the oldest meeting record from 2009 (Nick Thoman). "He
will definitely try," says Mattivi, who will also welcome the Russian Nika Godun
(third at the 2021 European Short Course Championships in Kazan) in Bolzano.
And an Italian star is also coming to town. Margherita Panziera has confirmed to
come. The 28-year-old from Montebelluna has won gold in the 200 m backstroke
at the last three European Long Course Championships and is 37-time Italian
champion. Last year at the home European Championships in Rome she even
achieved the "double" in the 100 and 200 m backstroke.
Saturday, 07. October 2023
Will Noè Ponti be the serial winner?