Sunday, 04. November 2018
Kelsi Dahlia from the USA is the big star at the 22nd Swimmeeting Südtirol - Four victories and three meeting records for the Olympic champion from the USA - Four wins for Marius Kusch - Five meeting records during the two days event and victory number 17 for Fabio Scozzoli
Saturday, 03. November 2018
The stars from the USA convince at the Swimmeeting Südtirol. Double victories for Kathleen Baker and Kelsi Dahlia - Three meeting records on the first day in Bolzano- 16th win for Fabio Szozzoli - Marius Kusch wins twice
Thursday, 25. October 2018
Swimmeeeting South Tyrol with even more stars from Italy and the USA: Ceccon, Chadwick, Vergani, and DeLoof are coming - Evelyn Verraszto back again in Bolzano in a week
Thursday, 11. October 2018
US star Kathleen Baker at the Swimmeeeting South Tyrol
US star Kathleen Baker at the Swimmeeeting South Tyrol - Dahlia and Orsi confirmed their presence in Bolzano on 3rd and 4th November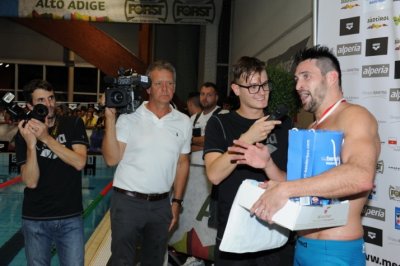 The tension grows day by day. Three weeks left until the 22nd Swimmeeting Südtirol, which will be held on the first weekend of November in Bolzano. This year on the 3rd and 4th of November Italy's best swimmers - led by Fabio Scozzoli, Nicolò Martinenghi, Piero Codia and Margherita Panziera - are almost fully represented. The organizers of the SSV Bozen got a big coup in the last few days. "We can say that with Kathleen Baker we will have one of the best swimmers in the world in Bolzano," said meeting CO Christian Mattivi from SSV Bozen. The 21- year-old is not only Olympic and World Champion with the US relay team, she is also the fastest backstroke swimmer in the world and has set a new long-course world record over the 100m at the US Championships on July 29th in Irvine. In 58.00 seconds and the old record of the Canadian Kylie was undercut by a tenth of a second.
"She is in good shape at the moment, as her times at the short-course World Cups in recent weeks prove," says Mattivi. In late September in Eindhoven, Baker set a new US record in the 25-meter pool in 55.91 seconds, and a week later, she equalized Katie Meili's 100-meter country record in 58.02 seconds. Along with Baker, another Olympic champion from the USA comes to Bolzano. Kelsi Dahlia (prior to her marriage known as Kelsi Worrell) has also won gold over 4 x 100m with the US Quartet. At the 2017 World Championship in Budapest Dahlia has won four titles and triumphed with the US team relay over 4 x 100 m freestyle and 4 x 100 m medley as well as 4 x 100 m freestyle mixed and 4 x 100 m medley mixed races. Nonetheless, Dahlia is also an outstanding dolphin swimmer as her three silver medals at the 2016 Short Track World Championship in Windsor – Canada - prove.
"I think we can offer the best women's field ever," says Mattivi. Nevertheless, he is particularly pleased that Marco Orsi comes back to Bolzano. The "Bomber from Budrio" is one of the crowd favorites in this city, where he has won so many times. The Sprinter has won eight gold medals at short-course European Championship alone, the last of which was in December over 100 m in Copenhagen. Orsi is a short-distance specialist. He also holds the Italian records in the 25m pool over 50 and 100m freestyle in 20.69 and 46.04 seconds.
From Germany, another strong swimmer is back. Marius Kusch trains in the USA. Last season he conquered with Germany bronze over 4 x 100 m medley at the long-distance European Championship in Glasgow and also finished third over 100 m butterfly at the Short Course European Championship in December 2017.
Tuesday, 02. October 2018
Swimmeeting South Tyrol: Scozzoli aims to record winner Rupprath - Martinenghis comeback – 22nd edition on 3rd and 4th November in Bolzano