Sunday, 03. November 2019
This has never happened in 23 years of International Swimmeeting South Tyrol. On Sunday afternoon, the audience at the Green Event (since 2014) in Bolzano for the first time saw a new Italian record.
Saturday, 02. November 2019
Two victories with a meeting record over 50m butterfly and 100m IM on the first day. - Martinenghi beats Scozzoli - home win for Laura Letrari
Thursday, 24. October 2019
Franca da Silva third top swimmer from Brazil at the Swimmeeting South Tyrol - Also local hero Stefano Ballo comes to Bolzano
Monday, 14. October 2019
Cielo and Scozzoli not the only ones: Guido, Orsi and Codia will come to Bolzano on November 2nd and 3rd for the Swimmeeting South Tyrol
Wednesday, 02. October 2019
The fastest on earth in Bolzano
Olympic champion Cesar Cielo is the star of the 23rd edition of the Swimmeeting Südtirol on 2nd and 3rd November - Fabio Scozzoli wants the record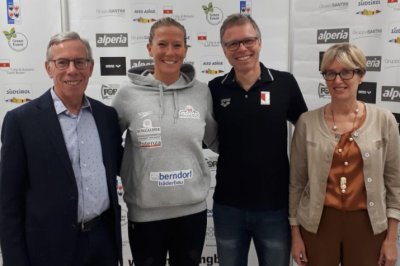 Bolzano opens the short course season in Italy for the 23rd time - and once again on a large scale. Since 1997, numerous stars from all over the world come to the Swimmeeting South Tyrol, which will be held in exactly one month on 2nd and 3rd November, where the first weekend of November is simply world-class. The SSV Bozen hosts the meeting and the fans can look forward to a two-day top-class event full of highlights. The first known names were revealed at the press conference today with South Tyrol's best swimmer Laura Letrari.
An Olympic champion cannot be missed at the Swimmeeting South Tyrol. This year, for the first time, the Brazilian legend Cesar Cielo Filho is coming to Bolzano. The 32-year-old close to his career end is still hungry for victories, then at the end of this season, in summer 2020 the Olympic Games will take place in Tokyo. Cielo has won everything in his fantastic career. The most valuable gold medal is certainly the victory at the 2008 Beijing Olympics over 50m freestyle. But Cielo, who was born on January 10th, 1987 and has been in the world class for a decade and a half, is still the fastest man in the water on the planet. For 10 years he holds the world records on the long track over 50 and 100 m freestyle. 2009 was the last year of high-tech suits. Cielo won the 100m freestyle in 46.91 seconds at the 2009 Long Distance World Championships in Rome. Even the world record over 50m freestyle, set at the Brazilian Championships in December 2009, is still at 20.91 seconds. Since his first international appearance at the 2004 Short Track World Championships in Indianapolis, Cielo has won two more Olympic medals (bronze over 100m freestyle in Beijing 2008, bronze over 50m freestyle in London 2012). Unforgotten remains his perfect race at the World Championships in Rome in 2009, as well as twice world champion over 50m fly (2011 and 2013) and has won in his career 33 medals (20 in gold) at major international events. The last two bronze medals at the Short Track World Championships last year in Hangzhou in China. "For us, of course, it is an honor to have Cielo in probably the last year of his active career at the start, an absolute highlight," rejoices Christian Mattivi from SSV Bozen, for 22 years OC-chief.
Bolzano has made a name for itself in international swimming in all these years. Above all, the stars from the USA always like to come to South Tyrol to enjoy the incomparable atmosphere in the much too small pool and feel the closeness of the audience. This year comes to Bolzano Matt Josa, a strong fly-swimmer from the States, who has won three relay medals with the USA at the 2016 Short Track World Championships in Windsor.
Of course, Bolzano is also the springboard for Italy's elite into the new season, with the first highlight at short-track European Championships in Glasgow from 4th to 8th December. One week later, the indoor Italian championships take place on the long-distance pool in Riccione. One who cannot be missed in Bolzano is Fabio Scozzoli. The breaststroke specialist has already celebrated 17 victories in Bolzano after his two successes the previous year. He has a mission to fulfill and wants to outperform record winner Thomas Rupprath in a single month, who holds 18 individual victories. "I'm convinced that Scozzoli gets the record," says Mattivi.
Scozzoli has been a world class swimmer for many years now. The 31-year-old was world champion in 2012, he has won eleven European Championship titles, eight of them on the short course and numerous Italian championship titles. Along with him comes his girlfriend Martina Carraro, also a breaststroke swimmer, who won bronze at the World Championships in July in Gwangju in South Korea over 100 m in 1.06,36 and got fifth over 50 meters. Carraro gained three times a medal at Short Track World Championships, including bronze over 50m in Hangzhou last December. With Elena Di Liddo another top performer of the Italian national team comes to South Tyrol. She narrowly missed a medal in 57.07 seconds and got fourth over 100m fly in the summer, after bronze on the same race at the European Championships. Di Liddo and Carraro finished fourth with Italy's medley relay in Gwangju.
Laura Letrari starts – Stefano Ballo maybe
For Laura Letrari, the Swimmeeting Südtirol has been an integral part of her annual program for many years. The 30-year-old wants to qualify for the second time in her career for the Olympic Games and focuses fully on the long-course. In Bolzano Letrari has already won six times (most recently in 2017 over 100 IM). Of course she wants to show her best side in front of her family, friends and fans. "I'm always looking forward to the home meeting. It's always nice to swim at home in front of friends and family. Bolzano is a special meeting. I know many world class swimmers who rave about this race and like coming. This year I bring three athletes from Austria with whom I train in Linz ". To her expectations, she says: "I'm sure I'm swimming the 100 IM and probably 50 m backstroke and 50 m freestyle. I have to see my shape as soon as I come back from the World Military Championship in China a week before. "
Of course, the organizers also hope that Stefano Ballo will be in his hometown one month from now. The 26-year-old has made a breakthrough last season after a couple of difficult years and with Italy's team at the World Cup in South Korea over 4 x 200 m freestyle missed as fastest a medal just for a few hundredths of a second. Since Ballo has trained under coach Andrea Sabino in Caserta, he feels comfortable. Now he targets the Olympic Games. "It's going to be difficult, but I want to qualify," says Ballo. His first goal on the road is the Short Course World Championship in two months. He wants to be in Scotland for the 200m freestyle, but this distance is not on the program in Bolzano. "We hope anyway that Ballo comes to Bolzano," says Mattivi, who also wants to have the other local hero, Zaccaria Casna. One of the best breaststroke swimmers in Italy for years andwho grew up like Ballo in the same pool.
Super-Jackpot in 11 races of 1000 Euro each
In eleven of the 18 individual races, the winners will be able to win a prize money of € 1,000 which is the super jackpot when a meeting record on a raceis at least 3 years old. Three event records in Bolzano are still from the year 2009, when it was allowed to swim for the last time with the high-tech suits. Curiously they are all three men's races. The 100 butterfly (Mario Todorovic 50.80) as well as the 50 and 100 backstroke (Nick Thoman in 23.69 e 50.32).
Winning formula unchanged: "Super series" on Saturday from 4.40 pm and on Sunday from 1.50 pm
There are no changes in the proven program flow of the last years. As always, the numerous audience will see the stars in action on Saturday at 4.40pm and on Sunday from 1.50pm onwards. The three best series of each competition (all styles over 50 e 100 meters and the 100 m positions are completed within 90 minutes.) Mattivi stands for the format: "Why should we change something that works great? The spectators like it because they see the most important races in no time and the athletes have nothing to complain about, as they do not have to be in the pool building from morning to night, and many of them come to us because of the special and unique atmosphere that reigns during the Meeting".
All races live on streaming
Since 2012 the entire meeting is also shown live on web-streaming. Swimming fans around the world can follow all the competitions (including Super Series) on www.meetingbz.it or www.liveye.it in real time. Alltoghether another reason the Swimmeeting South Tyrol is known around the world and has a good reputation.