Sunday, 03. November 2019
This has never happened in 23 years of International Swimmeeting South Tyrol. On Sunday afternoon, the audience at the Green Event (since 2014) in Bolzano for the first time saw a new Italian record.
Saturday, 02. November 2019
Two victories with a meeting record over 50m butterfly and 100m IM on the first day. - Martinenghi beats Scozzoli - home win for Laura Letrari
Thursday, 24. October 2019
Franca da Silva third top swimmer from Brazil at the Swimmeeting South Tyrol
Franca da Silva third top swimmer from Brazil at the Swimmeeting South Tyrol - Also local hero Stefano Ballo comes to Bolzano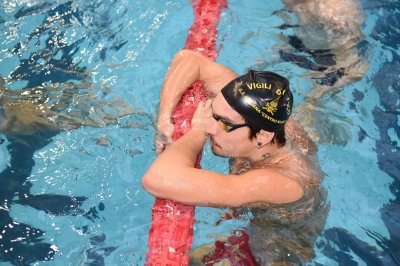 Ten days to the 23rd edition of the Swimmeeting Südtirol and the outstanding field of participants is complete. As always, the fans will get their money's worth at the two-day event on 2nd and 3rd November in Bolzano. Meeting chief Christian Mattivi and his staff have again brought a selected field to Bolzano, which has been extended by a few prominent names in the last few days. After Cesar Cielo, the fastest swimmer in the world over 50 and 100 m freestyle on the long-distance track, and the famous backstroke swimmer Guilherme Guido, Bolzano has
to offer a third foreigner from Brazil this year. Breaststroke specialist Felipe Franca da Silva like Cielo and Guido is already 32 years old. He is about to swim his last big season on the international stage and wants to set a tone at the end of his career at the 2020 Olympics in Tokyo. Franca da Silva was world champion over 50m breaststroke 2011 in Shanghai and vice world champion on the same track two years earlier in Rome. Franca da Silva has won no less than six gold medals at Short Track World Championships in his career (three individually and three in the Brazilian relay). He is also quadruple Pan American champion. Franca da Silva has been holding America's 50 and 100m breaststroke records in the 25.63 and 56.25 seconds since 2014, and will make things difficult for Fabio Scozzoli. Italy's veteran has already celebrated 17 victories in Bolzano. In addition to Laura Letrari, South Tyrol's best-known and nowadays most successful swimmer is going at the start in Bolzano. For Stefano Ballo it is like coming back home. The 26-year-old grew up in Bolzano and is now training in Caserta. Last season he finally made the big breakthrough and was one of the protagonists with Italy's freestyle relay over 4 x 200 m freestyle at the World Championships in July in Gwangju in South Korea, that missed bronze and finished fourth. "We are happy that Stefano is at the start in Bolzano," says OC boss Christian Mattivi. "Ballo will be in three races: he will swim the
50m and 100m freestyle as well as the 100m IM". In addition to the Italian stars Fabio Scozzoli, Martina Carraro, Elena Di Liddo and Piero Codia, other two Azzurri are reported to come, that have their best times probably still in front of them. For both it's a return to Bolzano. Thomas Ceccon was born on January 27th in 2001. He won the gold medal over 50m freestyle at the Youth Olympic Games in Buenos Aires a year ago. This year he won the "Double" at the European Junior Championships in Kazan over 50 and 100 meters backstroke. Martinenghi, born in 1999, made an international sensation at the Junior World Championships two years ago in Indianapolis, when he was titled world champion over 50 and 100 meters breaststroke. In his career he has conquered seven Junior European Championship title and that's one more than Ceccon.
Bolzano is also looking forward to a reunion with Madison Kennedy. The freestyle sprinter from the USA will once again not miss the swimmeeting. And for the first time from across the ocean, her compatriot Madeline Banic and the British Isabella Hindley, who recently completed her doctorate at the famous Yale University, are at the start too.
Super-Jackpot in 11 races of 1000 Euro each
In eleven of the 18 individual races, the winners will be able to win a prize money of € 1,000 which is the super jackpot when a meeting record on a raceis at least 3 years old.
Three event records in Bolzano are still from the year 2009, when it was allowed to swim for the last time with the high-tech suits. Curiously, they are all three men's races. The 100
butterfly (Mario Todorovic 50.80) as well as the 50 and 100 backstroke (Nick Thoman in 23.69 e 50.32).
Winning formula unchanged: "Super series" on Saturday from 4.40 pm and on Sunday from 1.50 pm There are no changes in the proven program flow of the last years. As always, the
numerous audience will see the stars in action on Saturday at 4.40pm and on Sunday from 1.50pm onwards. The three best series of each competition (all styles over 50 e 100
meters and the 100 m positions are completed within 90 minutes.) Mattivi stands for the format: "Why should we change something that works great? The spectators like it
because they see the most important races in no time and the athletes have nothing to complain about, as they do not have to be in the pool building from morning to night, and
many of them come to us because of the special and unique atmosphere that reigns during the Meeting".
All races live on streaming
Since 2012 the entire meeting is also shown live on web-streaming. Swimming fans around the world can follow all the competitions (including Super Series) on www.meetingbz.it or www.liveye.it (https://livestream.com/accounts/99928/events/8864356 ) in real time. Altogether, another reason the Swimmeeting South Tyrol is known around the world and has a good
reputation.
Monday, 14. October 2019
Cielo and Scozzoli not the only ones: Guido, Orsi and Codia will come to Bolzano on November 2nd and 3rd for the Swimmeeting South Tyrol
Wednesday, 02. October 2019
Olympic champion Cesar Cielo is the star of the 23rd edition of the Swimmeeting Südtirol on 2nd and 3rd November - Fabio Scozzoli wants the record