Sunday, 03. November 2019
This has never happened in 23 years of International Swimmeeting South Tyrol. On Sunday afternoon, the audience at the Green Event (since 2014) in Bolzano for the first time saw a new Italian record.
Saturday, 02. November 2019
Thomas Ceccon excels at the Swimmeeting South Tyrol
Two victories with a meeting record over 50m butterfly and 100m IM on the first day. - Martinenghi beats Scozzoli - home win for Laura Letrari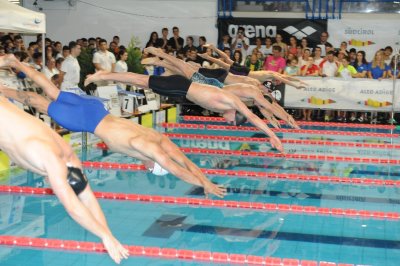 The 23rd edition of the Swimmeeting South Tyrol, since 2014 Green Event in South Tyrol with international success, started on Saturday with a coup. Thomas Ceccon was the man of the day at the event in Bolzano. The 18-year-old from Thiene set two new meeting records with sensational times and victory over 50m dolphin and over 100m IMd. He stayed over 50m in 23.05 just three tenths of a second above Piero Codia's Italian record. Even over 100m IM, he impressed with the time of 52.79. Curiously, he has snatched the event records from 2014 made by the Deibler brothers Markus (100 m in 53.04) and Steffen (50 m in 23.12) and a cash prize of 2000 euros "These are the first races of the Season and with the time I'm satisfied, after all, I did not catch the turn perfectly. My best time in the long pool is 23.3 ", said Ceccon after his victory in the dolphin sprint.
The reigning Vice World Champion Marco Orsi had to settle for second place in 53.52 over 100m IM. However, at the start of the day he celebrated his 13
th
win in Bolzano and won the 100m freestyle in 48.07 seconds ahead of local hero Stefano Ballo from Bolzano 48.93.
The US Madison Kennedy (for the tenth time in a row in Bolzano) and Briton Isabella Hindley won in 54.45 ex equo. Hindley also won over 100m backstroke a little later and stayed in 59.96 under one minute.
Nicolò Martinenghi won the highly expected race over a 50m breaststroke in 26.48 seconds. He defeated Fabio Scozzoli (26.67), preventing the 18
th
victory in Bolzano for the 31-year-old from Imola. On Sunday Scozzoli wants gold over 100m breaststroke to even with record winner Thomas Rupprath (18 victories between 2001 and 2008). Third over the 50m breaststroke race was Felipe Franca da Silva (27.09), one of the three Brazilian stars in Bolzano. Compatriot Guilherme Guido's 100m backstroke brought him with the second fastest time ever in Bolzano, leaving him in 50.71 only four tenths above the ten-year-old Meeeting record of Nick Thoman (50.32). Cesar Cielo was over 50m butterfly only fourth in 24.02.
Italian women's favorites wins were Martina Carraro's 50m breaststroke in 30.45 and Elena Di Liddo's 50m butterfly in 26.50. At the end of the first day, the spectators celebrated their local hero's seventh win in Bolzano by Laura Letrari in the as always hopelessly overcrowded pool facility. She prevailed in her favorite race over 100m IM in 1.01.87 minutes just ahead of Isabella Hindley (1.02.08). "It was hard, but it's always nice to win at home in front of many friends," said Letrari. On Sunday, the stars at the vicarage can be seen from 14.40 hour.
Thursday, 24. October 2019
Franca da Silva third top swimmer from Brazil at the Swimmeeting South Tyrol - Also local hero Stefano Ballo comes to Bolzano
Monday, 14. October 2019
Cielo and Scozzoli not the only ones: Guido, Orsi and Codia will come to Bolzano on November 2nd and 3rd for the Swimmeeting South Tyrol
Wednesday, 02. October 2019
Olympic champion Cesar Cielo is the star of the 23rd edition of the Swimmeeting Südtirol on 2nd and 3rd November - Fabio Scozzoli wants the record