Sunday, 13. December 2020
The big winner of the 24th swimmeeting South Tyrol is without a doubt the South Tyrolean swim sport!
Saturday, 12. December 2020
Matteo Gusperti sets the highlight on the first day
Matteo Gusperti wins the men's 50m butterfly in a sensational 24.05 and sets the highlight on the first day of the swimmeeting South Tyrol.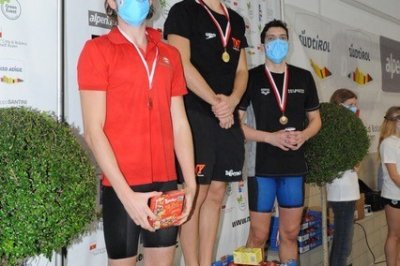 Matteo Gusperti is Andrè Gusperti's son, who competed over 100m butterfly at the 1998 World Championship, and the nephew of Renè Gusperti, who was a 2-time Olympic participant (1992 and 1996), and thus got the talent laid in the cradle.
It was extremely exciting over the men 100m freestyle race, where the first 3 swimmers hit within one tenth of a second, and nonetheless over the women 100m backstroke, definitely a heartbeat finale there too!
The level was surprisingly very good, and you could see the participants "great pleasure" and fun in competing against each other again.
For once, it wasn't world-class stars that were in the spotlight, but national swimmers.
That this year, at the 24th edition of the swimmeeting South Tyrol – for the first time – no event record had been set was secondary... the focus was on another great victory: after March 2020 and July 2020, a swimming competition was finally possible again!
The many restrictions, such as compulsory mask, distance keeping, permanently assigned seats, etc., don't matter: practising sport and to be back on competitions counts.