Sunday, 13. December 2020
Sabrina Weger and Matteo Gusperti with 2 Supersprints on day 2
The big winner of the 24th swimmeeting South Tyrol is without a doubt the South Tyrolean swim sport!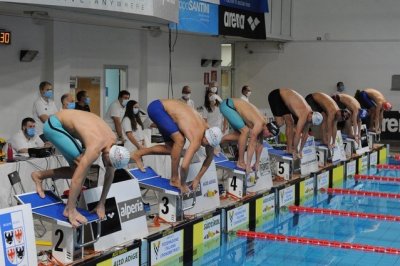 For the 10th time, this special event was held as a green event to combine sport with sustainability. Around 250 swimmers were allowed to swim their first competition in the "Albert
Pichler" hall in Bolzano after - in some cases - 9 months and the participating teams had at the swimmeeting South Tyrol their only opportunity to view their swimmers for the upcoming
Italian team championships in anticipation to this week's entries submission to the national federation.
The 24th swimmeeting South Tyrol was held under strict security conditions; For example, no audience was allowed, mouth and nose protection was an absolute must and all
starting blocks were disinfected after each start. Since 250 athletes were admitted for the swimmeeting South Tyrol, the event had to be divided into 2 parts in order not to exceed the maximum number of people allowed (according to Covid regulations) of 150 people. Highlight on day 2 of the event were provided by Sabrina Weger (SSV BOZEN) with her
victory over 50m freestyle in an excellent 25.77 seconds and by Matteo Gusperti (Team Nuoto Trento) with his victory over 100 butterfly in a sensational 54,49.
The level was surprisingly very good, and you could see the participants "great pleasure" and fun in competing against each other again.
For once, it wasn't world-class stars that were in the spotlight, but national swimmers. That this year, at the 24th edition of the swimmeeting South Tyrol – for the first time –
no event record had been set was secondary... the focus was on another great victory: after March 2020 and July 2020, a swimming competition was finally possible again!
The many restrictions, such as compulsory mask, distance keeping, permanently assigned seats, etc., don't matter: practising sport and to be back on competitions counts.
Saturday, 12. December 2020
Matteo Gusperti wins the men's 50m butterfly in a sensational 24.05 and sets the highlight on the first day of the swimmeeting South Tyrol.