Sunday, 06. November 2016
Anthony Ervin the showman at the Swimmeeting South Tyrol
The Olympic champion beats Orsi and Bocchia over 50 freestyle - Doublets for Codia, Scalia, Fissneider, Svecena and Kennedy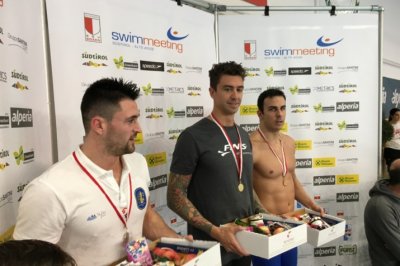 After the last minute forfait on Saturday over the 100 freestyle, Olympic champion Anthony Ervin did not disappoint the audience today. The 35-year-old American has won the most spectacular and exciting race of the weekend in Bolzano. The 50 freestyle swam in 21.65 ahead the Italians Marco Orsi (21.83) and Federico Bocchia (21,91). "I never expected to win right now. The competition was fierce. Bolzano is a very nice place, "said Ervin on his first appearance in South Tyrol. The second day was without Fabio Scozzoli over 100 m breaststroke, after he broke the record of the event on Saturday on the 50 breaststroke (26.60). "He had some stomach problems during the night and in prospective of Massarosa he did not want to risk anything," says Christian Mattivi, president of the organizing committee of the two days meet in Bolzano – greenevent on its 20
th
edititon.
After seven victories on Saturday the "Azzurri" did well today too by winning four more races. Piero Codia made an encore in butterfly, after th 50m win on Saturday, he also won over the double distance in 51.77 in front of the strong US Matt Josa (51,86) and the German Marius Kusch (52,05). Second victory for Silvia Scalia over the 50 backstroke placing in front of Elena Gemo (28.08) and Laura Letrari (28,19), which won the 100m IM the day before.
For the first time Lisa Fissneider got two victories in Bolzano during the same edition. The 22-year-old starts for the SSV Bozen, and trains in Rome, was on her season debut and after the 50 breaststroke she also triumphed over the 100m in 1.07,60 ahead of Mary Romanjuk (Estonia / 1.08,68). The fourth Italian victory of the day goes to Andrea Toniato, who had it easier to race without Scozzoli and won the 100 breaststroke in 1.00,35.
The young Czech Lucie Svecena triumphed on Saturday over the 50m butterfly and today she made her race over the 100 butterfly in 59.02 ahead of the Italian Aglaia Piebald (59,15) and the Austrian Birgit Koschischek (59,45). Two victorious finishes in Bolzano for Jacob Pebley. The US-Boy made its battle over the 50 backstroke in 24.23 touching the plate in front of the Nicolò Bonacchi (24,43) and Simone Sabbioni (24,46). Madison Kennedy dominated the freestyle sprint (50 m) today with a very good 24,56 in front of Piebald (25,21) and Koschischek (25,46). Laura Letrai fourth in 25.59.
Saturday, 05. November 2016
Homevictories for Laura Letrari and Lisa Fissneider on the first day at the Swimmeeting South Tyrol - Meeting record swam by Fabio Scozzoli over 50 m breaststroke - Marco Orsi wins twice
Friday, 28. October 2016
The next stars for the Swimmeeting South Tyrol
Thursday, 20. October 2016
An Olympic Champion for the 20th edition: Anthony Ervin this years star at the South Tyrol swimming tournament on 5th and 6th November in Bolzano - duel with Marco Orsi
Thursday, 13. October 2016
Swimmeeting South Tyrol on 5th and 6th November in Bolzano - European Champion Andreas Vazaios, Fabio Scozzoli and Madison Kennedy the first stars taking their mark