Sunday, 06. November 2022
Star of the 26th edition in Bolzano
Saturday, 05. November 2022
Three victories and meeting record in the 50 m butterfly in 22.77
Friday, 04. November 2022
Godun, European Championship bronze, will also be in Bolzano at the weekend
Friday, 28. October 2022
International entries from the USA to Africa
Swimmeeting South Tyrol ante portas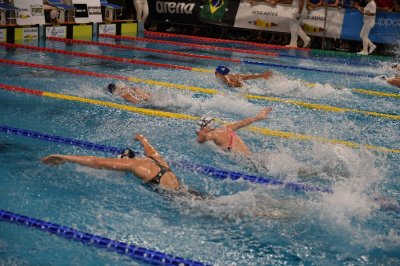 The preparations for the South Tyrol Swimmeeting are in full motion. The event on short course in Bolzano will experience its 26th edition on November 5th and 6th. This
year Italian big names are missing, due to their participation at the Nico Sapio Meeting in Genoa, which is taking place at the same time. Bolzano relies on strong swimmers
from all over the world, as it has been tradition for a quarter of a century.
Many big names have stood on the starting blocks of the same pool in the last 25 years and this year again meeting head Christian Mattivi and his team from SSV Bozen have
succeeded in bringing relevant international swimmers to the town on the first weekend in November. As everyone knows, the Swiss Noè Ponti, who won the silver
medal in the 100 m dolphin at the European Championships in August, will be there in Bolzano. But athletes from the USA should not be missing either.
Backstroke and dolphin specialist Kendyl Stewart, 28y.o. from Newton, Massachusetts, has won eleven medals at major international events in her career. The third place with
the US relay team at the Long Track World Championships in Kazan in 2015 and the three gold medals with the US quartet at the Short Track World Championships in
Hangzhou in 2018 deserve special mention. That year Stewart was already at the start in Bolzano. So, this is her second time in town. An old friend is Madison Kennedy. The
American has already won three times at the Swimmeeting in Bolzano and will again be one of the leading actresses this year in the 50 and 100 m freestyle events.
The Bulgarian Lachezar Shumkov triumphed in the 50 and 100 m breaststroke race last year and wants to defend his title this year. Greece's Georgios Spanoudakis made a
name for himself at this year's Mediterranean Games by finishing 4th in the 50m backstroke race. In addition, the organizers have committed two interesting swimmers
from Africa. Matthew Lawrence (Mozambique) and Maria Lopez de Freitas from Angola. As always, the top athletes (the three fastest series) will perform in a very short time
schedule. On Saturday from 3.30pm to 5.40pm and on Sunday from 1pm to 3pm. Even this year Bolzano is again a green event that focuses on sustainability.
Thursday, 06. October 2022
Noé Ponti swims in Bolzano