Sunday, 05. November 2017
Triplet for the Azzurro and the Dutch in Bolzano
Saturday, 04. November 2017
Azzurri show at the South Tyrol Swimmeeting: Seven wins in ten races on the first day - Double Gold for Scozzoli with event record over 50 breaststroke '?? Local matador Letrari wins 100 IM
Thursday, 26. October 2017
Rivolta, Milli, Sabbioni, Di Liddo, Mizzau, Panziera but also Verraszto in Bolzano in one week
Sunday, 22. October 2017
The bomber in Bolzano on 4th and 5th November
Swimmeeting Alto Adige: Orsi can't miss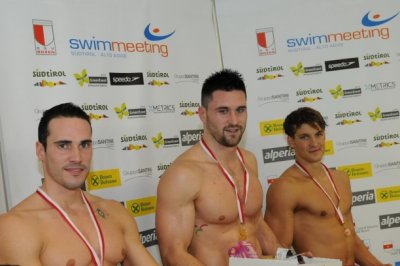 Since years Marco Orsi is a fixed point of the Swimmeeting Alto Adige. In two weeks the bomber of the Italian swim-sport will again be one of the stars of the 21 st edition of the event in Bolzano on the short distance, programmed at the Maso della Pieve on the weekend of the 4 th and 5 th November. "Orsi is an important name of the Italian swim-sport. He can inspire the fans like nobody else can. We are proud to have him in the pool this year too", said Christian Mattivi, head of the organizational committee of the sports club SSV Bozen, which organizes the meeting since 1997. Orsi, European champion in December 2015 in Netanya, Israel, won seven medals at the European championships on the short distance and is the Italian short distance recordman in both the 50 and the 100 freestyle (20,69 and 46,04). He wants to get back to the European top within this season, which will have the first highlight moment with the European championships on the short distance in
Copenhagen from the 13 th to the 17 th December.
In the last three years Orsi won seven times in Bolzano and holds the event's records in the 50 (21,23) and in the 100 freestyle (46,98). "We will witness the duel between Fabio Scozzoli and Nicolò Martinenghi in breaststroke, but we have to see the races on the 50 and 100 freestyle as well. There won't be a lack of competition for Orsi. We managed to bring the Russians Evgeny Lagunov and Oleg Tikhobaev to Bolzano", said Mattivi. Lagunov, 32 years old and even more experienced, is at the top of the international swimming since the 2004 Olympic Games in Athens (fourth with the Russian relay), holding two olympic medals (silver in the 4x200 freestyle in Beijing 2008 and bronze in the 4x100 in London 2012), three silver and one bronze at the World Championships on the long distance, always with the Russian relays. In the 2010 World Championships in Dubai he won gold with the quartet form Russia (4x200 freestyle) on the short distance. His fellow countryman Tikhobaev was part of the Russian relay which set a new world record in the 4x50 freestyle on the short distance
World Championships in December 2014 in Doha. Tikhobaev won the bronze medal with Russia at the European Championships in 2012 in Debrecen in the 4x100 freestyle. In addition to Orsi and the two Russians there will be a strong Brazilian in the pool. Matheus de Santana, 20 years old, took part at the Olympic Games in Rio, reaching the finals with the Brazilian 4x100 freestyle. He won gold at the Pan American Games in 2015 in Toronto, always with the 4x100 freestyle of his country and in 2014 he conquered the gold medal in the 100 freestyle at the South American Games in Santiago. The presence of Alexander Knabl, a strong Austrian on the short distance freestyle, is confirmed as well. The Austrian national team will come directly to Bolzano after an altitude training period in Val Senales.
The 50 and 100 freestyle promise some show in the woman's camp too. With Erika Ferraioli and Aglaia Pezzato two of the currently fastest Italian female swimmers will be in the pool. Both were part of the Italian quartet which won the silver medal at the World Championships on the short distance one year ago in Canada. Since years Ferraioli is a fixed point of the Italian relays in all the international competitions that matter. She raced for Italy in the finals of the London Olympic Games too and won the European title in the 4x100 freestyle in Berlin in 2014. The Austrian Lena Kreundl, sixth at the European Championships on the short distance in 2015 in the 100 breaststroke and sixth at the World Championships on the short distance in the 100 breaststroke in 2016, will be present as well.
Wednesday, 11. October 2017
Other stars still swimming in Bolzano on 4th and 5th November